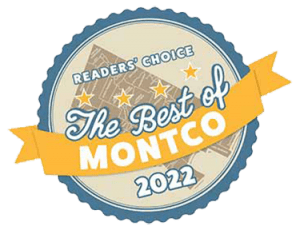 Where Your Pup is Royalty!
Opened in 2006, Cubby's Canine Castle is the premiere destination for dogs in Montgomery County. We offer a full range of dog services, including daycare, boarding, grooming and training.
Our mission at Cubby's is to provide a clean, safe and, of course, fun environment for your dogs to romp, wrestle and play all day.
---
---
Doggy Daycare
Dogs coming to Cubby's for daycare can expect a full day of play in our large indoor and outdoor play yards. Our experienced and attentive staff are well-trained and educated in dog behavior. They monitor and manage playgroups to ensure dogs are behaving appropriately and safely.
With a 10,000 sq.ft. of outdoor play yards and 8,000 sq.ft. of indoor playrooms, our fully fenced in facility features fabulous space both indoors and out.

Learn About Doggy Daycare
---
Dog Boarding
While you go on a fun-filled vacation, your dog can too! Boarding at Cubby's is more like a hotel than a standard kennel. Your dog will play all day and get some much-needed rest in our canine condos at night.
During the day, dogs boarding with Cubby's get to participate in our regular Doggy Daycare.
Please note that, while we love all dogs, we can only provide boarding services for our active daycare dogs.

Find Out More About Boarding
---
Dog Grooming
Cubby's offers a full range of dog grooming services, including basic bath, brush out, nail filing or clipping, teeth cleaning and full-service grooming. A full groom includes shampoo, conditioning, brush out, ear cleaning, nail trim and a personalized haircut. Cubby's grooming services are provided by Karen, an all-breed groomer with over 20 years of experience.
When here for a spa day, pups are pampered by our award-winning grooming department–voted Best of Montco for Grooming in 2022.

Read About Grooming Services
---
Dog Training
Cubby's offers a variety of training options including group classes, private sessions, and stay-and-train lessons. Whether your furry friend needs to learn the basics, is having trouble adapting to his or her home, or just wants an exciting new activity, we have something to accommodate your needs and schedule.

Explore Our Training Classes
---
New to Cubby's Canine Castle?
Want to get your dog enrolled? Simply fill out our new client enrollment form and one of our staff will contact you.

Get Started at Cubby's
---
Book Your Dog's Stay Today
Current clients can request appointments for all services online. You can even add special options to your dog's stay!

Schedule a Service
---
Why Choose Cubby's Canine Castle?
Stellar Staff: The staff at Cubby's are not only compassionate dog lovers, but are trained and experienced in dog behavior.
Spacious Play Areas: Our fully fenced-in facility features fabulous play space both indoors and out. Your dog has room to run–rain or shine!
Best of Montco: Cubby's Canine Castle is consistently recognized as Montgomery County's best doggy daycare and groomer. We've been named Best of Montco 14 times!
Health and Safety: All dogs are evaluated and must have current vaccinations prior to acceptance in our daycare. We also monitor and manage play groups to ensure safe playtime.